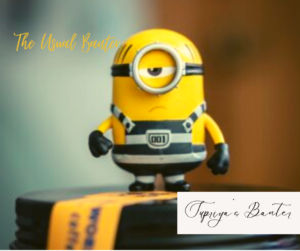 #theusualbanter
#smartypants
#momlife
#itsalwaysmyfault
Kids and husband are on a video call with my ma-in-law.
Mom laughs over something.
The little monkey (four-year-old) is quick to add, "Dadi, you laugh like a witch."
It amuses Mom. She suppresses her smile somehow and says, "kiddo, you are too naughty. Where are you getting your naughtiness from?"
"From my pants?" pat comes the reply.
"Huh? Pants? Wh-what?" Mom is puzzled.
"Pants?" asks the husband, looking down first at her pants and then at her smug face.
The little monkey couldn't handle any more ignorance from the lowly creatures of the earth. "Papa, don't you remember… I get it from mom's and mosi's pants… jeans."
"Mom, it's genes." was all husband could utter between bouts of uncontrollable laughter. "A few days back, I told her that all her naughtiness comes from her mom's and Mosi's genes. And that I have no contribution towards it." He manages in the end. 
So, tell me, dear folks, what pants are you passing on? Or shall I say jeans?
Pic credit- Alison Wang(Unsplash)
Glossary- Mosi(Hindi)-maternal aunt
                   Dadi(Hindi)-grandma