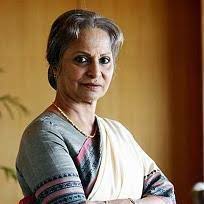 "Thank you, Dadi, for convincing Dad!" Chitra, my grand daughter, said, wrapping her arms around me.
I tucked a rebellious curl behind her ear and smoothed her brow. The constant fear of losing her company for good was taking a toll on her.
"It's not that I don't understand Dad's apprehensions. But I can't let years of blood, sweat, and tears go down the drain!" she twisted her bottom lip in irritation.
Chitra's joint venture with her fellow design graduate was on the verge of collapse. All these years, her partner had worked with the artisans in far-flung tribal communities, and Chitra handled the office based in our town. Now, the partner wanted to reverse the roles. Chitra had no option but to jaunt across the country if the business was to survive. She would've already left had it not been for her father—my son/Chitra's dad wasn't ready to let his twenty-something unmarried daughter leave the nest for something he thought was nothing more than a wild goose chase.
Read the whole story here-Thank God Her Grandmother-In-Law Rescued Her From Those Women…
Image source- Google Images