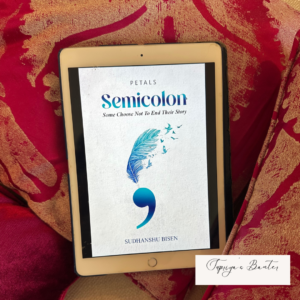 Semicolon: Some Choose Not to End Their Story  
Author; Sudhanshu Bisen   
Language‏: ‎ English 
Publisher‏: ‎ Petals Publishers & Distributors  
 Adwait Solanki, a London-based stand-up comedian, is on a tour in India, showcasing his latest masterpiece. His life takes a mysterious turn when he gives into temptation and spends a night with a captivating admirer, only to discover them dead the following day.  
What follows is a brush with an anonymous stranger, a series of 'gifts', and something more than Adwait had bargained for.  
The plot unfolds at a fast pace and makes the book a page-turner.  
The characters like Aziman, Kaveri, and Niharika are thoughtfully laid out with many layers. The emotional arc is well explored without losing the thrill and suspense.  
Bisen skillfully weaves together multiple storylines, creating a complex and interconnected web that keeps readers guessing. The plot is fast-moving and thoroughly engaging. A dash of erotica will appeal to the fans of this genre.  
The author's straightforward writing style suits the genre. Well-executed, the story's climax brings the suspenseful narrative to a satisfying ending.  
A well-crafted contemporary suspense. Gripping and unputdownable.