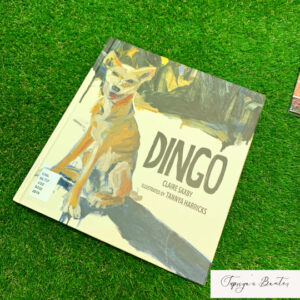 Dingo  
Author- Claire Saxby   
Illustrator- Tannya Harricks  
Publisher‏: ‎ Candlewick; Illustrated edition (December 26, 2018)  
Language‏: ‎ English  
Hardcover‏: ‎ 32 pages  
Reading age‏: ‎ 5 – 9 years  
Theme- nature book series, Nonfiction  
Rating 3.5/5 
The stunning artwork-bold brush strokes and medley of colors running riot on the pages attracted me to this book first. The oil paintings capture the light, the atmosphere, and the elusive canines in their natural habitats and depict the moments as if they were happening right before your eyes.  
The dual fonts make it easy for the little ones to separate informative nuggets from the storyline. The kids follow in the footsteps of these top-level predators as they nurture their pups, forage food, taste the air for traces of rabbits, and fleet through the forest teeming with other unique Australian creatures.  
The vocabulary and lyrical writing get a bit difficult for the little ones, which is why it is best savored as a read-aloud book than an independent reader.   
The book packs a punch about this medium-sized, light-footed, graceful dog with a wary eye and strong hunting instincts. The diverse landscape- red deserts, alpine forests, mountains, and forests breathe life into this nonfiction narrative.  
A treat for all animal lovers!