How My Mother And I Bonded Over Astutely Made Shopping Bargains!
Though occasional phrases like "we always buy from you" or "I'm not making a profit… this is the cost price" were thrown in, the game remained tactical to a large extent.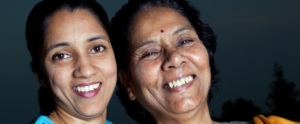 As a dutiful, docile, senior-most daughter-in-law of the household, she was either in the kitchen planning meals for twenty-odd members, washing, drying, ironing, folding, and arranging pyramids of clothes into some secret order, or entertaining out-of-town visitors.
The periodic festivals and puja preparations sponged the left-over hours. Yet, creative pursuits muscled their way into her afternoons—embroidery, painting, knitting, sewing, and whatnot. She did it all. The tireless schedule notwithstanding, she even devoured Hindi Classics by Munshi Prem Chand, Dinkar, and Amrita Pritam.
This piece was amongst the winners in the contest–Few of my favorite things to do with my mother, organized by Women's Web.
Visit my Women's Web author profile here.