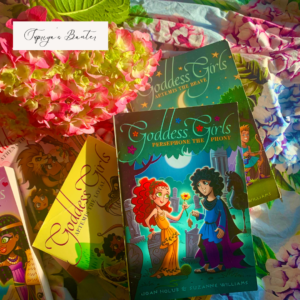 Persephone the Phony (Goddess Girls)  
Author- Joan Holub, Suzanne Williams  
Publisher‏: ‎ Aladdin; Original ed. edition (April 6, 2010)  
Language‏: ‎ English  
Paperback‏: ‎ 160 pages  
Rating-4/5 
Persephone feels out of place, a bit phony amongst other girls at her school, Mount Olympus Academy, where all Greek Gods are trained. She follows her mother's advice stringently and often "goes along to get along" to keep her friendship with other Goddess Girls, never arguing or voicing her opinions.  
The authors also spin a clever twist on her name- she thinks she is Perse-phony (the way her name is supposed to be pronounced)  
She often tags along with her friends and does the things they want to do, only to be pleasant and amicable. That's how she lands in the Immortal Market Place (where she didn't want to go in the first place) with Athena and Aphrodite. And ends up with beauty products, yarns, threads, and knitting supplies she doesn't like. 
A chance meeting with Hades resets her mind. Despite the warning by other Goddesses in training about Hades being bad news, Persephone cannot get him out of her head. He makes her feel special, wanted, and independent, something she's never felt in her mother's shadow.   
Guilt weighs on her as she sneaks around to meet her first crush, the presumed bad boy of Mount Olympus Academy, Hades.  
As the narrative advances, it is revealed that Hades is a thorough gentleman, chivalrous, dark and broody, and absolutely right for down-to-earth Persephone. In the end, things come around when the couple gets approval from Persephone's mother and her friends.   
This humorous, creative retelling of the Greek myths is tailor-made for the target audience. The complex, intricate myths are tackled with ingenious simplicity. As with each book, we see the protagonist, Persephone, become the Goddess we know today.  
The romance is kept within the accepted standards of the intended readers yet never short of sentiments and drama.   
The budding teenagers will find the series enchanting. I, as a parent, loved the bite-sized morsels of Greek mythology the books serve with such elegance and grace.  
A super fun series!   
A super fun series! 
Creativity, Style, and Originality
This humorous, creative retelling of the Greek myths is tailor-made for the target audience!