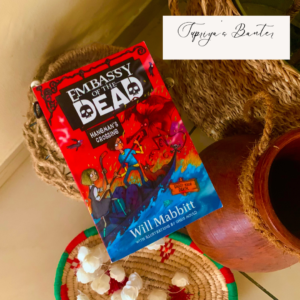 Embassy of the Dead: Hangman's Crossing (Book 2 of 2)  
Author-Will Mabbitt  
Language- English   
Publisher- ORION CHILDREN's BOOKS   
Rating 3.5/5  
This series might fit the bill if you are looking for something in the spooky-funny section for your middle graders.   
Jake joins an official position working for the Embassy of the Dead, protecting ghosts despite his reluctance. In the second book, Jake, accompanied by his ghostly pals-hockey stick-wielding Cora and Zorro, the fox, travels deeper into the world of ghosts. The rest of the narrative follows Jake dodging terrifying undead creatures in a race against time to save the world.   
The expedition into unknown realms is engaging and fascinating to read and, at times gripping for the intended age group.  
This sequel delivers, boosting the series in clever, ingenious ways that will delight the fans and entice the newcomers to return to the first book. 
A delightful cast of characters paints the plot in humorous and horror tints in equal measure.  
An even pace, with a sprinkle of creepy illustrations, intrigue the readers and keep them on the lookout.  
A fun, straightforward plot, sparkling with neat twists and turns, is just right for the younger audience without being too spooky.  
A fun ride! It would definitely appeal to fans of mystery, adventure and spooky thrillers!