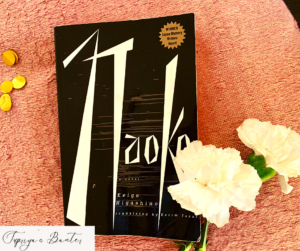 Naoko
Author- Keigo Higashino 
Translator- Kerim Yasar
Genre- thriller 
Publication date- August 2004
Rating-3.5/5 
I picked it up because I wanted to read translated works from Japanese authors other than Murakami. It helped that the blurb promised it to be a cross between a mystery thriller and a black comedy.  
The book delves into the life of a middle-class man, Heisuke. His life turns upside down when his wife, Naoko, and his daughter, Monami, meet a catastrophic bus accident. Heisuke is heartbroken to discover that his wife has succumbed in a desperate attempt to save their daughter. But to his surprise, when his daughter, Monami, wakes up from a coma, she claims to be Naoko, his wife. Through various anecdotes, Higashino convinces Heisuke and the readers to accept the far-fetched possibility. What follows is a tale of a warped family with separate rules for private and public life.  
The book has delightful moments, but they are few and far between to justify the story as a black comedy. The climax is top-notch and unexpected. No wonder Higashino is considered a master of mysteries in his country.  
The story moves at a slow pace but has enough subplots and plot twists to keep the reader engaged. It gives the reader a fascinating insight into gender roles in Japan. 
If you want to explore an ambiguous mystery set up in an exotic locale, then this book may just fit the bill.