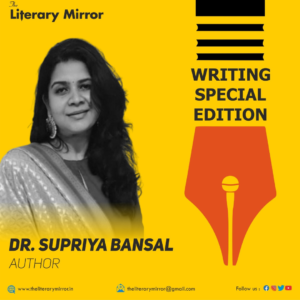 How exciting it is when it is one of those busy boring days, and something unexpected turns up at your doorstep and brings in the sunshine!
Thank you, Literary mirror, An Indian Art, Literature and Culture based monthly magazine, for the feature. To be featured amongst the top 50 Indian writers is an absolutely fantastic high!
This makes it all worthwhile!
Read the whole piece
here
–
Dr. Supriya Bansal – Author
A Radiologist by profession, Supriya Bansal, spends most of her day inhabiting a monochromatic world of shades of grey ranging from black to white. She and her husband share their home in the UAE with two extraordinary kids who keep them on their toes most of the day. When she is not at work or creating art and being silly with her kids, she delights in reading, spinning, and penning down stories with a twist.
She is an active member of many creative writing communities. Her writings, including fiction, poetry, prose, and travelogue, have won many accolades on leading Indian and international platforms. She won Orange Flower Award for short fiction for two successive years and was featured in India Today as one of the 'Top Eight Emerging Indian Women.' She has been featured in over thirty anthologies, including a few by international publishers, including Indie Blu(e) Publishing House, Asian Literary Society, The Hive, InkQuills, WriteFluence, TMYS Stories, The Book Buzz, Zero-degree Publishers, Chrysanthemum Chronicles, Penmancy, Ukiyoto Publishers, Half Baked Beans. She would soon be out with her debut novel.
#supriyasbanter #indianwriters