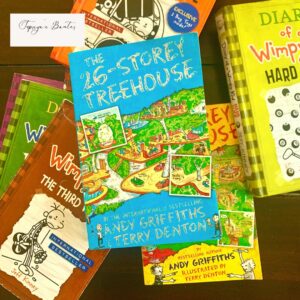 THE 26-STOREY TREEHOUSE 
By Andy Griffith, Terry Denton 
Author: Andy Griffith 
Illustrator: Terry Denton 
Preceded by: The 13-Storey Tree House 
Followed by: The 39-Storey Tree House 
Genres: Fiction, Humor 
Age: For ages: 6 – 12 
Type: Junior Fiction 
V Reviews (nine-year-old):
Oh, how I loved this book! It's silly, funny, and crazy to the core. The story kicks off with Andy (the author) narrating a story of how he met his partner, Terry, the illustrator. It's an absolute laugh-riot at how the story gets interrupted repeatedly by their madcap adventures. The sharks chomping down Terry's underpants and getting sick, followed by Jill operating on the sharks, had me rolling on the floor, laughing. 
The shark tank, the skate ramp and a dodgem car arena, self-inflating underpants, the maze of doom, and an ice-cream serving robot were hilarious and fascinating. I especially liked the pages with illustrations of 78 ice cream flavors—so creative and comic. 
The book is a scream. Can't wait to read the next one in the series. 
Mommy's take: 
Since I saw my nine-year-old snorting and guffawing, all snuggled up with the book, I knew I had to read it myself. That he plowed through three hundred pages in no time and kept bugging me to take a peek didn't help matters much. So, I gave in. 
And now, I have no clue how to rate or review it. 
This comic-book cum chapter-book hybrid stretches for over 300 pages and is packed to the brim with black line illustrations from Denton. Reinforced by images, the plot line advances with short sentences with no more than a paragraph per page. 
As far as the story goes, the less said, the better. To come to think of it, I shouldn't even be reviewing the book as it was never written for my age group. It is amusing and hilarious for the intended age group, but as an adult (maybe just me!) I found it chock-a-block with toilet humor, slapstick comedy, and weird theatrics focusing on irrelevant nonsense. 
No doubt that it's yet another storey to scale after the Wimpy Kid series for a reluctant reader. 
All in all, this hugely popular series is harmless, clever, and may even inspire creativity. My nine-year-old wrote a comic-style story after wolfing down these books at the speed of light. And just for that, I would recommend these vivid, endearing, yet absolutely silly series. 
My son already has the next one—The 39-Storey Tree House in his hands and is mighty chuffed about it, grinning like the cat that got the cream. 
Do I keep away or risk venturing near? 
Do I want to be pestered to read the next one in the series? I guess you know the answer already! 
Foul language, objectionable content
hilarious, side splitting funny