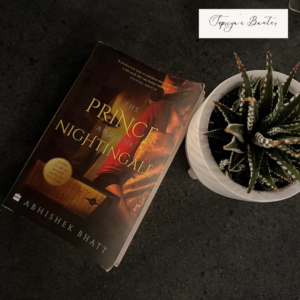 The Prince and The Nightingale   
Author- Abhishek Bhatt  
Format-Paperback/ kindle  
Publisher‏: ‎ HarperCollins India (1 May 2021)  
Language‏: ‎ English   
Theme- Historical Fiction  
 Bhatt takes well-loved ingredients—history, royalty, cricket and Bollywood to knit the backdrop of a star-crossed romance between his protagonists, Abhimanyu Singh, the erstwhile prince of state Ranakpour, and a commoner, Meera Apte.   
The beginning of the narrative focuses on Abhimanyu Singh, King Uday Singh's middle son. It's where we learn about his siblings, their vested interests, fears, woes, and worries as the 800-year rule of their family and ancestors on the princely state comes to an end.
Robbed of their royal status and public dominance, the king urges the younger family members to find their niche in the new India. While Abhimanyu moves to Bombay to make a career in cricket, his siblings take a diverging path. Abhimanyu's meeting with a struggling singer with a melodious voice, Meera Apte, and their ill-fated romance riddled with misunderstandings, distance, betrayal, and eventual reconciliation with fate and its ways forms the rest of the narrative.   
Bhatt captures the nuances of cricket well and deftly highlights Abhimanyu's central role in elevating cricket to its present status. The journey is believable and chronicled well. Meera's rise to a playback singer from an Indian classical protegee evokes an old-world charm.
The emotional turbulence, the fluctuating confidence and Abhimanyu's incredible support and faith in her talent make for an engaging read. The stories of their near-death experiences and personal and professional lives dotted with people with disguised intentions make some of the high points.   
The language is unpretentious and well-suited to the era. Every now and then, the backdrop is coloured by historical events, and its long-lasting repercussions are reflected on the protagonists. This lends the book realistic as well as a unique character.   
The book is an easy read with engaging character arcs and a satisfying climax. Though the bits about Abhimanyu's election campaign and political calling seemed a bit dragging, they didn't mar my reading experience.   
Just a perfect book to pick up if you're in the mood for a dollop of history sweetened by intense passion and sublime, poetic romance.   
Disclaimer- I won this book in Brunch Book Challenge 2022, organized by The Hindustan Times. 
A classic blend of history, romance, cricket and Bollywood
Characterization and readability
Poetic romance with a dollop of history
Well-loved ingredients—history, royalty, cricket and Bollywood deftly knitted in the backdrop of a star-crossed romance.