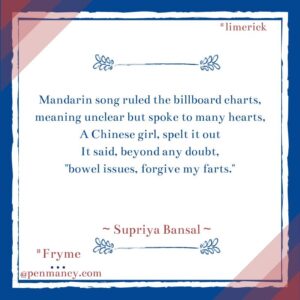 A limerick is a humorous poem consisting of five lines. The first, second, and fifth lines must have seven to ten syllables while rhyming and having the same verbal rhythm. The third and fourth lines should only have five to seven syllables; they too must rhyme and have the same rhythm.
Edward Lear, a famous British poet, and writer of literary nonsense is widely considered the father of the limerick. He didn't write the first limerick — the first limericks came about in the early 1700s and are often preserved in folk songs — but he popularized the form. More importantly, he wrote some of the best. 
Few examples from his limerick collection:
There was an Old Man with a beard
Who said, "It is just as I feared!
Two Owls and a Hen,
Four Larks and a Wren,
Have all built their nests in my beard!"
Another One,
There was a Young Lady of Dorking,
Who bought a large bonnet for walking;
But its colour and size,
So bedazzled her eyes,
That she very soon went back to Dorking.
#pocketpoems
#miniverses#tinypoems#poetrybullets
I wrote this limerick for a contest by Penmancy. The prompt was to weave a limerick around the word 'song.' This micro-verse was chosen as one of the winners.