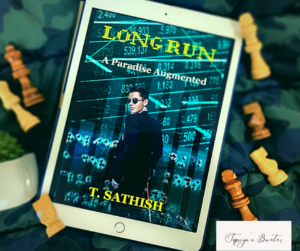 Long Run- A Paradise Augmented 
Author-T. Satish. 
Genre-realistic fiction 
Publisher: BOOK STREET PUBLICATIONS (25 December 2021) 
Language: English 
Paperback/Kindle version 
Think of the world of finance, a complex world where your net worth determines your appeal, your caliber, and stature. Think of a world driven by investors, financial advisors, unprecedented risks, and unpredictability—a world where ambition, power-hunger, arrogance, and selfishness are the norms of the game. 
The author, T. Satish, adds a small-town boy, a finance graduate Raghu Santhanam, to the bubbling cauldron and stirs up an intriguing brew. 
The story charts the protagonist's meteoric rise to the pinnacles of power, money, and influence and the subsequent smoldering crash, moving back and forth with snippets of the past woven into Raghu's present. 
Raghu bounces back with renewed zeal when life bogs him down, but only after losing more than he has bargained. His theory of 'traveling light' backfires as he finds himself at the crossroads. 
As the 'investment guru with a guitar' scrambles to put his life together, does he find his love interest, Anu, walking by his side? 
Once you get the hang of the timeline, you embark on an adventure alongside Raghu, with the plot cruising across continents. Driven by his dreams and aspirations, Raghu is addicted to catching the latest trends and riding the wave in his quest to become the best. 
The easy-to-read, fast-paced narrative drifts from Raghu's hostel life interspersed with light-hearted banter with his friends to a ruthless world ruled by numbers. 
The characters are relatable and sustain interest throughout the novel. A generous sprinkling of local Tamil lingo lends the book a charming flavor. 
Though the author simplifies unfamiliar telecom jargon for the readers' benefit, it gets a tad bit heavy in the middle, especially for readers with no commerce background. But that's my shortcoming and by no means a reflection of the author's skill. 
Some quotes from the book. 
That man's dedication to finance and his love for all those American heroes of finance were undying. Buffett and Bogle were his eternal favorites. 
I thought that competition and protecting oneself in that competition was the chief act of survival. 
I decided that in my life, I would focus on how I felt about doing something as I went about my goals, rather than allowing others to hang on and drag me down or slow me. 
Final Verdict- 
Like the stock market, Raghu's life of spectacular highs and crashing lows keeps you engaged and offers vivid insights into a complex, unfamiliar world of commerce. 
The climax takes you by surprise, and you realize that sometimes a lie is all one needs to continue living.