Maalum Caves- Natural swimming pool, and that too in a cave designed by mother nature herself!  
Zanzibar's best-kept secret!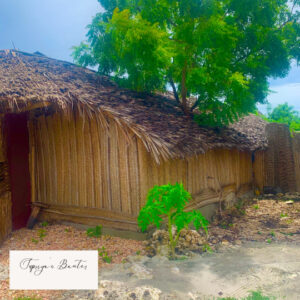 I don't know about you, but before visiting this beautiful coral island called Zanzibar, I had no clue that limestone could carve out such fascinating caves.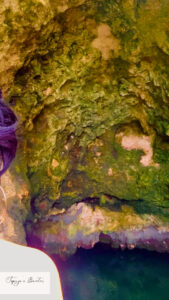 Paje, a long strip of ivory-white sand flanked by villages, eateries, and teal-blue waters, hides one of the most stunning places in its recesses.  
When our minivan swerved into a dirt road and persevered deeper into the bush, I presumed we had lost our way. It isn't unlikely, given the web of passageway crisscrossing the island.  
However, a few hundred meters later, we stopped before an unassuming cottage with a thatched roof.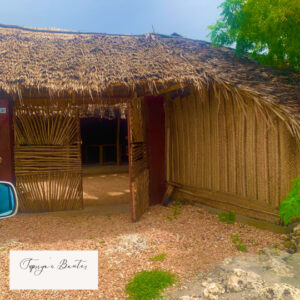 A hesitated stroll revealed the reception area done in muted tan with all-natural materials; it did nothing to prepare me for the magical realm that lay ahead.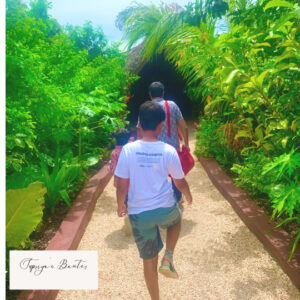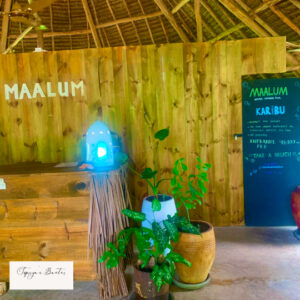 A narrow trail amidst emerald green shrubbery and swaying palm led us to the lockers.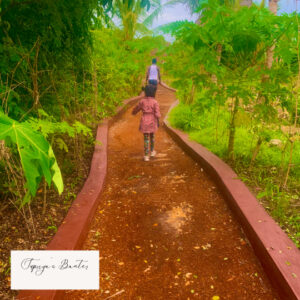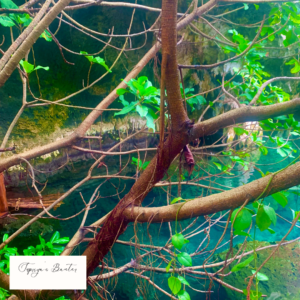 A quick change into swimming gear sans the sunscreens or mosquito repellents led us to the oasis hidden amongst the vegetation (there are explicit instructions prohibiting the usage of chemicals).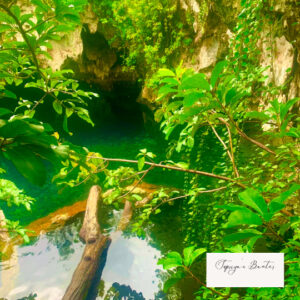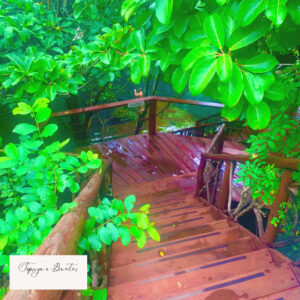 My mouth gaped; like a jab in the heart, the gorgeous circular cave rippling with clear crystalline water struck me with its otherworldly beauty. Dumbfounded and stunned, I rambled down the rustic staircase and wooden decking.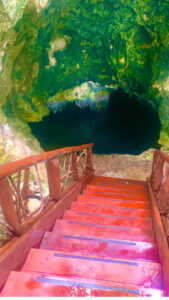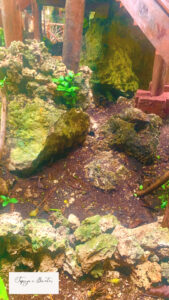 Opalescent, mottled rocks and corals jutted out in many angles and shapes, casting a clear reflection in the pristine water.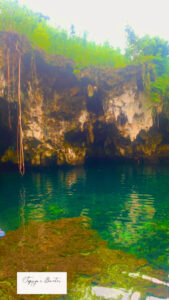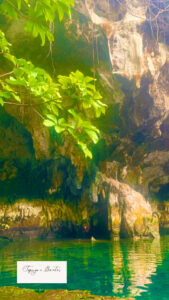 A backdrop of stalagmites and stalactites bulged from rocky corrugated walls. The whole vista makes you feel as if you've taken a step closer to the earth's heart. I sat on a wooden plank, entranced by this unsullied, natural marvel, not realizing that the brave-hearts—Husband and the six-year-old had already advanced into the waters.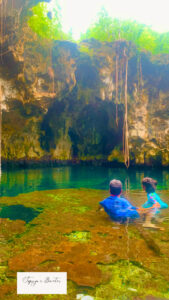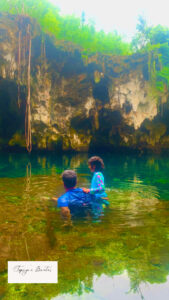 The slippery, rough, and cold coral floor scraped against my feet as I followed suit. A few visitors before us had apparently slipped many times in an attempt to ply across.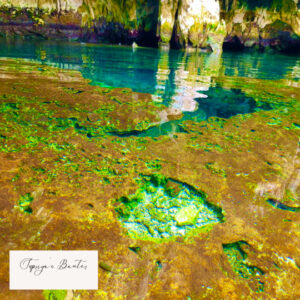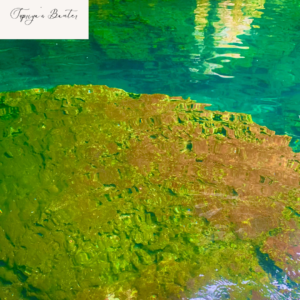 Standing at the edge of the coral, I couldn't discern the depth of the water.  
It seemed unfathomable. As my eye adjusted to the unlit profundities, I spotted subterranean portals and underwater chasms probably leading to a parallel universe. Or perhaps the merworld of Ariel and Ursula?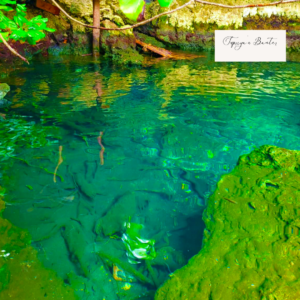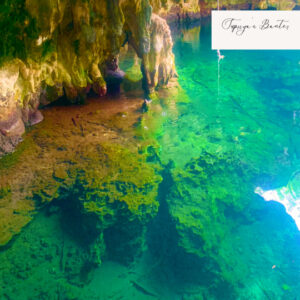 The knobby, gnarled trees submerged in the surreal waters peeked out as if amused by the exulted tourists. A battery of marine life frolicked close to us—a school of fish, a consortium of crabs.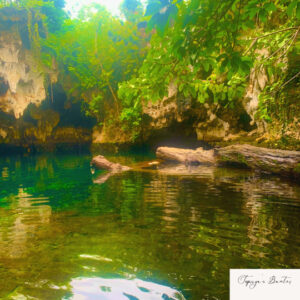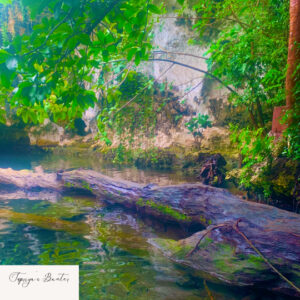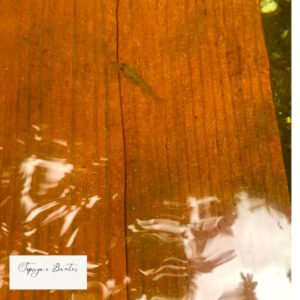 Thick ropes from the ragged walls enticed one to channel their inner Tarzan and fly through the air, swinging on the rope only to plunge and scour the bottomless watering hole.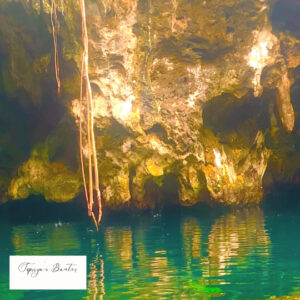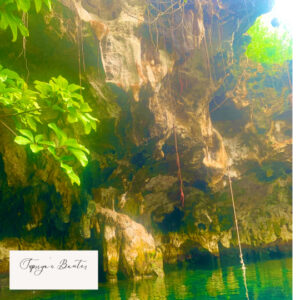 Soaking into the healing powers of the cool, crystal-clear water, I skimmed around. The caverns seemed ever-shifting—morphing and molding as per the visitor, much like the Room of Requirement in Hogwarts Castle that changed according to people's needs.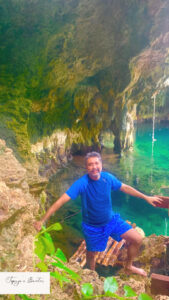 It became playful and entertaining to the adventurous seeker, snorkelers, and divers; it shape-shifted into a photographic caper for shutterbugs! And for someone like me, it became mystical, sacred, almost like a portal to another world.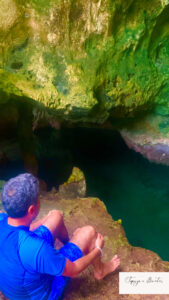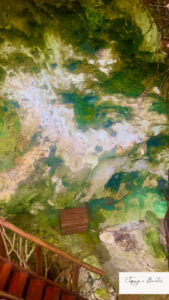 Golden sun rays scrambled into mistier parts of the cave through a dreamy skylight within the craggy overhanging roof.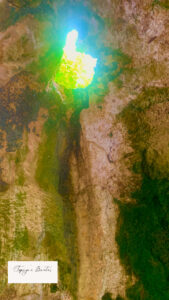 The water almost looked inky, and the entrance jagged and crooked. I almost expected to see an assembly of naiades, water nymphs, lounging and splashing in the calm cistern, holding a water jug or a frond of lush foliage.  
I could almost sense it as an abode to the spirits from another world.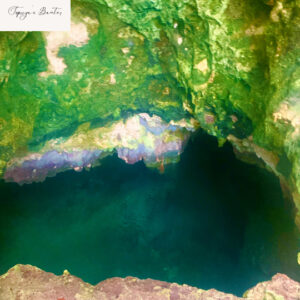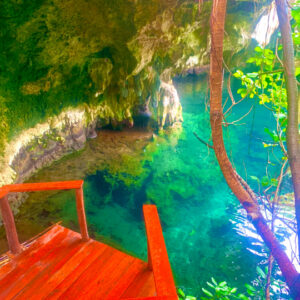 The area around the cave is a nature sanctuary teeming with wildlife. We spotted monkeys, colorful butterflies, different birds, and even bush babies as we relaxed on the swings afterward. Watch a fish dancing under clear waters.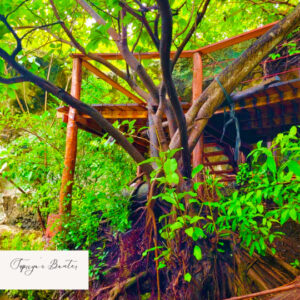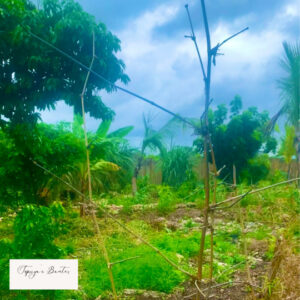 A Word About the Formation of Such Caverns:  
These natural caverns are geological formations with a long, fascinating history. Countless underground rivers snake beneath a relatively flat landscape.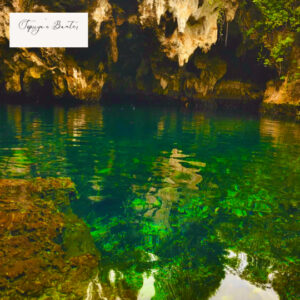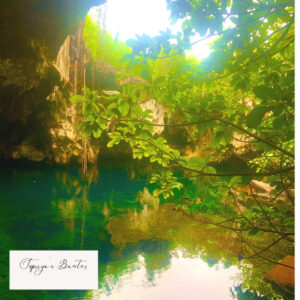 A few hundred thousand years ago, the constant erosion of these underground rivers flowing between two rigid layers of limestone caused the upper layer to weaken and buckle. From this collapse, these kinds of natural caverns were born. Take a tour of these incredible caves.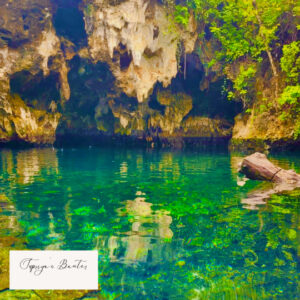 Do I Recommend the Maalum Caves?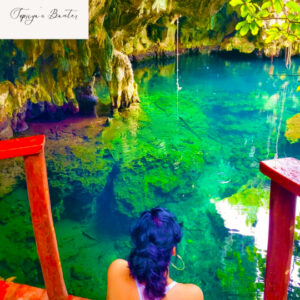 Yes, it's a natural marvel carved in the innards of mother nature would; you would never forget such a surreal experience.  
Snorkeling and scuba diving enthusiast will find it fascinating for its wondrous sights and uncharted depths.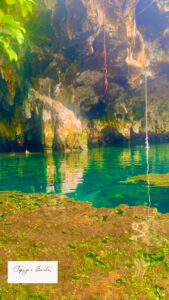 A Few Pointers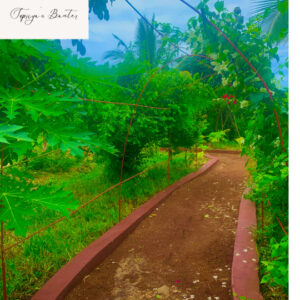 The caves welcome everyone, including the kids of all ages. However, kids over five years are charged as much as adults. Plus, it's better to come prepared with extra towels, floaters, and water shoes with kids.  
A waterproof case for your phone, an underwater camera, and swimming goggles will go a long way to enrich your experience.  
It's better to book in advance. At the time of our visit, we were the only ones relishing the bounty of the cavern. By the time the next batch arrived, we had had our fill.  
Since its part of geological construction, many other creatures call the cavern home. Respect nature and its other inhabitants, and you will have no reason to complain.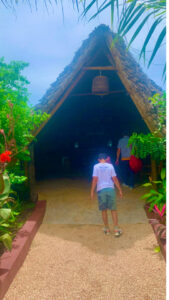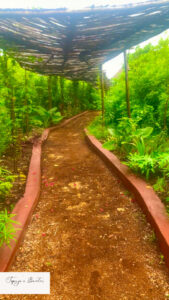 Continue Reading  
You can check out my other posts about this beautiful country: 
The Residence, Zanzibar-A Paradisial Stay 
An Afternoon at a Fishing Village in Zanzibar   
Jozani Chawka Bay National Park- A morning in the enchanted forests of Zanzibar 
A Rendezvous with the Giant Aldabra Centurions—the Prison Island, Zanzibar   
The Rock- Zanzibar's Trump Card on Social Media
Zanzibar-Eden tucked away in a wrinkle of time!    
*****