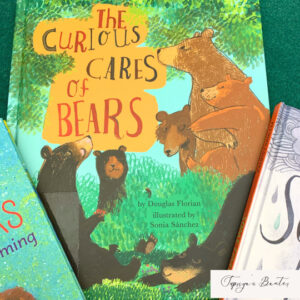 The Curious Cares of Bears 
Author- Douglas Florian 
Illustrator-Sonia Sánchez 
Publisher‏: Little Bee books 
Language‏: ‎ English 
Hardcover‏: ‎ 32 pages 
Reading age‏: ‎ 4 – 7 years 
Grade level‏: Preschool—3 
Rating-3/5 
The peculiar title and the adorable cover page enticed me to the book. As I turned the pages with my little one, I realized the text delves into the curious routines of a bear family throughout the year. The curious cares range from "climbing up trees and stealing the honey from beehives of bees." in the spring to "swimming inside of a creek or perhaps hide-and-seek" in the summers. Playing in the leaf pile in autumn to a lengthy, restful slumber in the winters and resurfacing with eyes lined with awe and wonder for another glorious year. 
Florian draws parallels between a kid's life and the bear's life⁠—riding mountain bikes, partying, and singing songs around a campfire. Though it makes the children reminisce about the remarkable time they had around the year, it left me with a feeling of neither here nor there. 
It would have been so much more effective had the text focused only on the bears' habits and practices (but it's just me). The action-filled, whimsical, digital, and mixed-media artwork draws the children into the silly romp and the curious capers. The rhyming text flows smoothly in most parts if you jump past a few awkward rhymes. 
Verdict⁠—not a must-read! 
A good read-aloud book going with the seasons and bears theme! It would pair well with bear-related and season-related crafts, too!