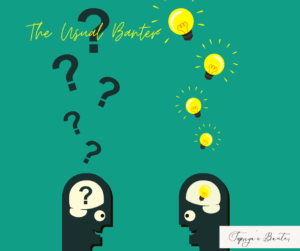 #theusualbanter
#thecaseofthemysteriousislands
#treasureisland
#momlife
#sherlockandwatson
This happened a year ago, but a trip to Rajasthani restaurant brought the memories back.
So, there was a get-together at home, and I had taken special pains to organize a Rajasthani spread. There was Daal-baati choorma, masala aloo bedmi, onion kachoris, mini samosas, gatte ki sabzi, and the likes.
Despite the back-breaking work, the results were worth it. (I don't mind it saying myself as for a non-cook like me, it was by no means a small feat) 
The party was in full swing, and I was busy serving and generally hanging out when the little one (then four-year-old) came to me and whispered in my ear, "Mumma, I want to eat the island."
Thinking that she probably got a name wrong, I picked her up, carried her around the table, pointing at this and that. She shook her head at everything. Of course, as I knew before, there wasn't an island on the table.
Because I hadn't made any.  
Tears welled up in her eyes. This was getting serious; it could quickly escalate into a full-blown outburst. 
And it meant I needed help. ASAP.
Nothing but an expert. 
The elder brother (then seven-year-old) was recruited to solve the case. 
He somehow has a knack for understanding her, and he has rescued me more times than I can count.
"What is she saying? What island?" I whispered, taking him into a corner. 
He probably could see my eyes begging, pleading, cajoling, and vehemently insisting all at the same time.
An all-knowing smile dawned on his face. A thousand questions darted across my brain.
Oh, dear God, he knew.  

Had I made some kind of island and forgotten about it? 
Taking my hand, he steered me to a corner where the guests were having dinner. It felt surreal, like a saint guiding me towards higher wisdom. 
He nudged me to look into a plate.
Could I peep into someone's plate without them noticing? Was it possible?
Desperate times called for desperate measures, and I was desperate. I took my chances and squinted into the plate. 
And, Lo and behold!
I had found my island.
Apparently, it was a baati floating in the sea of yellow daal.
This was the island the little monkey wanted!
I was probably as ecstatic with my discovery as Vasco da Gama would have been when he reached India by sea. Of course, like him, it wasn't all plain sailing for me, too.  
So, people, this is how we, the mother and son team, successfully closed the case of the mysterious island!  
Sherlock and Watson in the making, eh?  
For the uninitiated,
Daal Baati is an Indian dish of daal(lentils) and baati(hard wheat rolls).
Or you could call it an island instead?
What say? 
Picture Credit- Jambulboy(Pixabay)