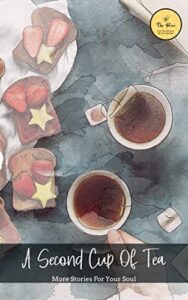 Neeta Ji inhaled deeply and squared her shoulders. She pulled out the tangerine silk saree from
its shelf, pleated the vibrant fabric around her waist, foreseeing the clucking of tongues, the jeers,
and the jibes. 
Such a gaudy color? Isn't she too old for this?
—–an excerpt from my story -Wabi Sabi, A Second Cup of Tea.
More about this book-
A spiritual sequel to 'Tea with a Drop of Honey,' The Hive Publishers' 'A Second Cup of Tea' comes with stories that will warm your soul. Twenty-two stories, an assortment of themes, a tea tray of genres, and a second cup of tea to enjoy the day.
A Second Cup of Tea will make you laugh, cry, smile, and shake your head with an indulgent smile. From historical to mythical to humor and more- twenty-two writers have come together to brew a perfect blend of tea for every reader.
Savor the warmth of the stories as they fill you with a sense of bittersweet yet heartwarming satisfaction.
Now available on Kindle, grab your copies, now! http://mybook.to/Tea2
The Amazon link to buy the book— here